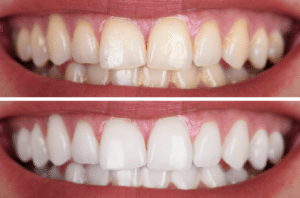 There is a way to quickly enhance the appearance of your smile through professional teeth whitening at Complete Dental Care. Commonly, over time our teeth can become discolored and stained. Discoloration and staining come from what we consume. Things such as coffee, wine, smoking, and chewing tobacco can leave you with a smile that you wish was brighter and whiter. It is also possible that your teeth naturally have a yellow or ivory hue. 
We have seen the positive effects that having a white smile can bring to patients in our office. Therefore we offer professional teeth whitening. If you are severely unhappy with your smile's appearance and would like to learn more about a complete smile makeover, please give us a call. Teeth whitening is a quick, easy, affordable, and worthwhile cosmetic enhancement. 
Professional Whitening 
We call our whitening professional whitening for many reasons in both our dental offices located in Spokane, WA and Kellogg, ID. We have seen how the desire to have a white smile has grown over the years and how different companies have made over-the-counter whitening products. Although these products give results, they are temporary, and products will need to be continuously purchased. With professional whitening, we can offer our patients the following: 
Long-Lasting Results:

By using professional whitening products and following our designed treatment plan, you will get results and see them last. No patient wants to take the time to receive treatment and not see results. At Complete Dental Care, we only offer products that will give long-lasting results. 
Safe Products:

Although well-known and verified companies create the most over-the-counter products, the safest way to whiten your teeth is through an in-office treatment. By getting your whitening products by a dental professional, we ensure that it is safe and healthy for you and your teeth. 
Smile Multiple Shades Whiter:

Through the use of our professional whitening, your smile will be multiple shades whiter. Our treatment will cause you to see the difference in your smile and help you gain more confidence in its appearance. 
Now that you know all that our whitening can offer you, we would like to explain a little more about how the treatments work. Although we say that our professional whitening is an in-office treatment, you can do it in your own home, whenever it is the most convenient for you. We give you all of the materials at your consultation appointment.
How it Works 
This process is straightforward, and anyone can do it. When you first decide to do professional teeth whitening, one of our team members will take an impression of your teeth. We can make 3D molds from those impressions, which allows us to create your customized bleach trays. 
The trays are made out of soft, pliable plastic and are cut down for a perfect fit around your teeth. After the impressions are made, it takes about one to two days for your trays to be completed and ready to be picked up with the other materials. We will supply you with your dental whitening solution and instructions on how and when to bleach. 
Whitening your teeth with trays and tubes of bleach is very simple and takes very little time. All you have to do is place a small amount of bleach into each front tooth section of the bleaching tray and then place the tray in your mouth. We only recommend having the tray in your mouth for about 15-20 minutes. With at-home whitening, you can whiten your teeth whenever you want! 
Want a Consultation? 
If you have wanted a smile enhancement through professional whitening, today is your day to call Complete Dental Care. Please schedule an appointment with one of our dentists, Dr. Scarborough or Dr. Sampalis. We are excited to serve you and look forward to helping you get the smile of your dreams.