SureSmile – Clear Aligners Procedure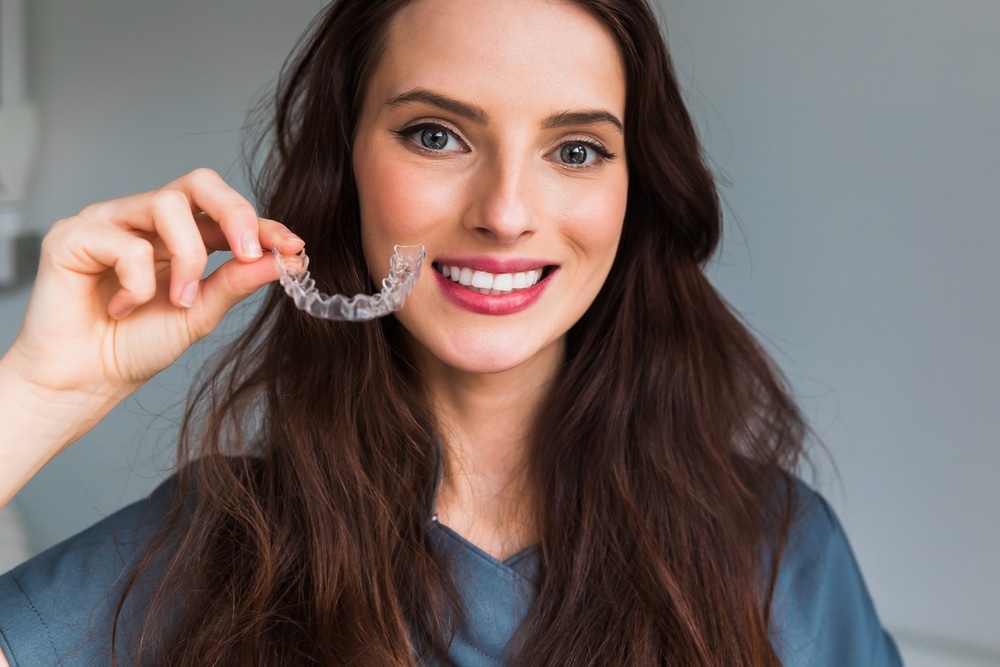 Are you looking for a straighter smile? SureSmile is a popular clear aligner system that is the perfect solution for anyone who wants to straighten their teeth without traditional braces. With SureSmile, you can expect to see results in as little as six weeks. That means you can have the beautiful, straight smile you've always wanted in no time! SureSmile is more comfortable than traditional braces and can be easily removed for eating and brushing your teeth.
Schedule a free consultation with Dr. T.J. Scarborough or Dr. Nick Sampali today to see if SureSmile is right for you!
Get the Smile You've Always Wanted with SureSmile Clear Aligners
If you're considering to straighten your teeth, you may have heard of SureSmile. SureSmile is a popular transparent aligner system known for its precision, fast results, and convenience. So, how does it work? Let's take a closer look. 
How Does SureSmile Work?
SureSmile clear aligners are made using 3D imaging and computer-aided design (CAD) technology. First, a mold is made of your teeth. Next, a virtual model of your teeth is created using the mold. The virtual model is then used to design your custom aligners. Once your aligners are ready, you'll need to wear them for 20-22 hours daily. You'll only remove them to eat, drink, brush, and floss. 
You'll need to visit us at Complete Dental Care every 6-8 weeks so we can check on your progress and give you new aligners as needed. The entire treatment process usually takes 9-15 months. 
What Are the Benefits and Costs of SureSmile Clear Aligners?
SureSmile clear aligners in Kellogg, ID, offer many benefits over traditional braces, including: 
They're practically invisible, so no one will even know you're wearing them! 

They're more comfortable than braces because there are no metal brackets or wires to irritate your gums and cheeks. 

You can remove them for eating and drinking, so you don't have to worry about food getting stuck in your braces. 

You can brush and floss normally, so you don't have to worry about taking extra care of your teeth while wearing them. 
Treatment time is shorter than traditional braces because they use advanced CAD technology to create a precise treatment plan for each patient. 
The exact price will vary depending on the misalignment's severity and the treatment length. However, many dental insurance plans offer partial coverage for orthodontic treatments like clear aligners, so it's always worth checking with your insurer to see if you qualify for any discounts. 
Overall, clear aligners can be an effective way to achieve a straighter smile, but it's essential to be aware of the potential costs before making a decision. To help you make this decision, we will provide you with cost estimates during your consultation period. We work with many insurance providers and even offer affordable payment plans.
How to Care For Your Teeth and Aligners During Treatment
To ensure that your clear aligners are working as effectively as possible, it's essential to take good care of them. Here are some tips for caring for your clear aligners and your teeth during treatment: 
Remove your aligners and brush your teeth at least twice a day. 

Remove your aligners and floss your teeth at least once a day. 

Rinse your mouth with water after meals and snacks. 

Avoid eating hard, sticky, or chewy foods. 

Avoid eating or drinking anything other than water while wearing your clear aligners. 

Clean your clear aligners with a soft-bristled toothbrush and clear aligner cleaner. 
If you follow these tips, you'll be well on your way to achieving a straighter smile!
Clear Aligners in Kellogg, Idaho
If you are unhappy with your smile or think you may need orthodontic treatment, SureSmile clear aligners may be an excellent option for you. With the benefits of less time, fewer office visits, and little to no discomfort, it is hard to argue against giving SureSmile a try. And it's no wonder why more and more people are choosing clear aligners over braces! 
Have you ever considered getting clear aligners? What held you back? SureSmile clear aligners may be the perfect solution if you want straighter teeth. Talk to us today to see if SureSmile is right for you.