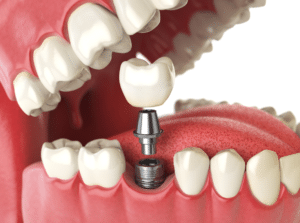 Missing a tooth can cause severe confidence issues and bring some health issues. If you are missing a tooth or teeth, dental implants from Complete Dental Care can restore your smile and your confidence in no time!
What Are Dental Implants?
We use dental implants to replace missing teeth and fill the holes in your smile. These artificial teeth are surgically placed within your jawbone to act as your natural teeth.
To receive an implant, you will need to consult with your dentist, Dr. Scarborough or Dr. Sampalis, to assure that this procedure is the best fit for you. If a dental implant is decided, your dentist will then discuss the details of your artificial tooth (size, shape, and color).
Implants are made up of two parts, the piece that goes into the jawbone and the artificial tooth that your dentist will place on top. The implant's abutment, or bottom piece, is a metal post used as the "root." 
Just as the roots of natural teeth are secured into the jawbone, the abutment is too. An oral surgeon will complete the placement of the abutment.
After we place the abutment into your jawbone, complete healing is needed. Once the jawbone is completely healed, your artificial tooth will be ready for placement. Your dentist will place the artificial tooth onto the abutment creating a new tooth!
Benefits of Having Dental Implants
Having a complete set of teeth helps increase self-confidence.

A missing tooth can cause bone deterioration

Since the implant is a porcelain tooth, there is no possible way for the tooth itself to accumulate decay or cavities.

The tooth is custom made to fit your mouth and match your natural teeth in size and color.

The implant will never be stained or discolored.
How Do I Take Care of My Dental Implants?
At Complete Dental Care, we recommend that patients care for their dental implants similarly to how they care for their natural teeth. Dental implants can last a lifetime with the proper care. We recommend practicing a good oral hygiene routine consisting of brushing, flossing, and mouthwash twice a day. We recommend that patients use low-abrasive, fluoridated toothpaste with a soft-bristle toothbrush. With this combination of toothbrushes and toothpaste, you can remove plaque from your teeth without damaging the soft tissue structures in your mouth. 
How Are Dental Implants Placed?
You can transform your smile in a few months with dental implants. Whether you would like to replace one tooth or an entire set of teeth, dental implants can help you. 
The first step to placing dental implants is a consultation. During your consultation, you will discuss your goals for the dental implants with your dentist. Next, they will take images of your missing tooth to determine the size of the implant to use. They will place your implant with an abutment during your dental implant surgery. 
It will take a few weeks to months for the implant post to heal in your jawbone. After the position has healed, the dental crown, bridge, or dentures will be placed. After this, your dental implant will be complete. 
Will a Dental Implant Need to be Replaced?
Not usually. Dental implants are designed to last a lifetime with the proper care. If you brush, floss, and use mouthwash twice a day along with visiting the dentist every six months, you should not have to replace your dental implant. 
Contact our Dental Professionals
Schedule a consultation today if you are in Kellogg, Idaho, or Spokane, Washington, and are looking for options to restore your smile. We can help you achieve the smile that you have always wanted. If you have any questions or concerns about the dental implant, please feel free to contact us.
Contact Us Today!
Learn More About Dental Implants